You are moments away from hearing the nation's leading author and expert on post death retirement planning dissect the SECURE Act and clarify just what this means for estate planners.
Whether you are a Trusts & Estates attorney, an Elder Law attorney, a Special Needs Planner, a Financial Advisor, Tax Accountant or CPA, you'll want to hear Natalie break down just what this means for your future and existing clients.
Make this investment in your practice now. Your clients are depending on it!
Unlimited streaming access for 6 months.
Vimeo will ask you to create an account to purchase and view this webinar.
$75 for subscribers to RetirementBenefitsPlanning.us*
Subscribers – Login NOW for 20% off coupon code
*$125 for non-subscribers.
NOTE: If you are an InterActive Legal subscriber you can access this recording FREE on the InterActive Legal subscriber website.
Bonus Content
And, you'll want this, Natalie Choate's Post-SECURE Beneficiary Payout Rules Chart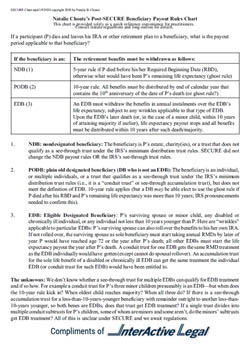 Click here to download this PDF, free.

Not an InterActive Legal Subscriber?