Exclusive On-Demand Webinar from Natalie Choate
What a Trip!
Since the SECURE Act arrived in December of 2019, planners have been awaiting regulations to clarify a variety of open issues. Proposed regulations were released in late February of 2022, ending the long wait. Although the proposed regulations answer many questions, they also raise a few new wrinkles and include some perhaps surprising provisions.
Unlimited streaming access for 30 days.
Vimeo will ask you to create an account to purchase and view this webinar.
$120 for subscribers to RetirementBenefitsPlanning.us*
Subscribers – Login NOW for 20% off coupon code
*$150 for non-subscribers.
NOTE: If you are an InterActive Legal subscriber you can access this recording FREE on the InterActive Legal subscriber website.
Bonus Content
Purchase includes, "The Estate Planner's Guide to The Treasury's Proposed Regulations regarding SECURE's Changes to the Minimum Distribution Rules (and a Few Other Things)", a 58 page analysis by Natalie Choate.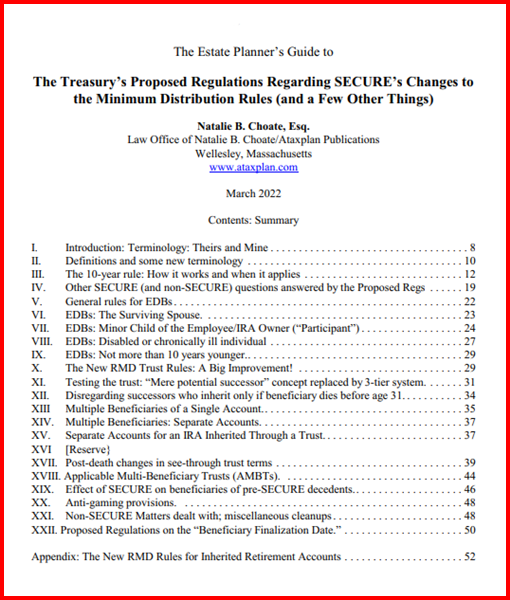 Not an InterActive Legal Subscriber?